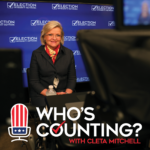 When Defend Florida co-founder Raj Doraisamy sat with Cleta to discuss his organization's election integrity projects, he first spoke of growing up in African nations where freedom was scarce and corruption was rife. Warning, "I'm coming from your future," Raj's experience from Africa to arriving in America for college has a direct bearing on his embrace of the liberty ingrained in safe and fair elections.

Defend Florida started as a grassroots group by two naturalized citizens (Raj and co-founder Ro Grosman) worried about election integrity, neither with any political experience. In a short period time, these citizen activists have grown Defend Florida into an organization with a significant positive impact on personal canvassing, cleaning voter rolls and documenting vote fraud. Defend Florida has expanded its reach nationally through Defend Our Union with a focus on engaging legislators and state executives as well as expanding its activist base and outreach to the media with its key findings.

Defend Florida will soon be putting out an 8 Step E-Book on how to engage as a citizen activists for election integrity, and invites our Who's Counting audience to text "Book" to 91776 to receive a link to this important publication when it becomes available.