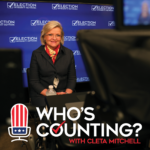 When this episode of "Who's Counting with Cleta Mitchell" podcast originally aired in May of 2022, guest Maureen Riordan – a veteran attorney, retired from the Department of Justice's Civil Rights Division – warned of the hyper-partisan and leftist ideology that dominates the DOJ swamp.
During the 2022 election cycle, the Department of Justice proved Maureen's warnings to be accurate as the DOJ became an active partisan bent on perpetuating the radical left's attacks against citizen engagement in the election process, claiming that this citizen involvement constituted not a patriotic exercise of statutory and constitutional rights, but a 'threat to democracy'. In the weeks and months leading up to the November election, the media carried a constant (false, threatening) narrative warning against "aggressive election observers becoming violent" and "voter suppression by right-wing activists." All these outlandish claims were bolstered by similar warnings from the DOJ and its leftwing partisan leadership.
None of those threats materialized and, in fact, the only chaos was caused in places such as Maricopa County, AZ by incompetent and malevolent election officials. But since the voter suppression resulting from the election failures on November 8 in Maricopa County impacted largely GOP voters, the Dept of Justice was nowhere to be found. Just as Maureen described in her interview with Cleta.

The DOJ through ongoing public statements and actions that were essentially not-so-veiled threats, were intended to discourage citizens from participating in election observation and engagement. None of the false narratives actually occurred and thanks to the encouragement of leaders like Maureen, citizens across the country braved the threats and engaged in record numbers as poll workers and observers nationwide. And thanks to the thousands of citizen observers and election workers deployed in Maricopa County, the issues and problems of the November 8 election were witnessed and documented.
Maureen currently serves as Litigation Counsel for the non-profit election integrity law firm, The Public Interest Legal Foundation and was lead counsel in successfully suing Michigan Secretary of State Jocelyn Benson for her failure to clean the Michigan voter rolls. Maureen is a leading expert on federal voting laws and survived a career battling the Department of Justice's leftwing agenda.
Election integrity advocates must understand her message about the level of malicious interference that emanates from this federal "mothership."
Revisiting this informative podcast is a great reminder of the barriers faced and obstacles that must be addressed and overcome by citizens when battling the federal leftwing leviathan to protect the integrity of America's elections for all voters.