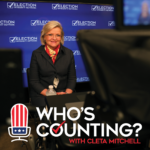 A graduate of West Point, North Carolina's Jim Womack has served his country through 20 years in the Army, as a civilian contractor in the technology sphere for both the state of North Carolina and the Department of Defense, and then as a local Lee County Commissioner. Now, as the President of the North Carolina Election Integrity Team (NCEIT) or "insight," formed this year, Jim continues his tradition of public service and duty to America's founding principles, by leading the North Carolina effort to build a permanent election integrity infrastructure throughout the State.
As an IT professional, Jim believes that technology offers solutions to many of the vote fraud and mishandling of ballots that he witnessed first-hand in his own race for County Commissioner.
With the NCEIT team, he developed the "Eight Systems of Election Integrity" which he refers to as the "eight lanes."
Based on the Citizens Guide to Building an Election Integrity Infrastructure published by CPI (https://www.documentcloud.org/documents/21195360-citizens-guide-to-building-an-election-integrity-infrastructure-november-2021), Jim has translated the component parts to "eight lanes": the seven found in the Citizens Guide, plus an added lane to engage citizens in lobbying for changes in state law to further protect the integrity of NC elections.
NCEIT's bi-partisan leadership team addresses critical voting issues and citizen engagement, focusing on the two pillars of election integrity: transparency and accountability.
Cleta and Jim discuss key problems, objectives, and solutions to the challenges for election integrity advocates in every state. Hear this great leader and patriot Jim Womack as he describes the need for permanent protections of the votes of all Americans.