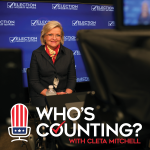 Election Integrity Network's National Networks Director Kerri Toloczko came to EIN after nearly three decades in the conservative public policy movement as a policy analyst and coalition manager. Her role for EIN in all of our programs is to leverage her experience and expertise to assist all election integrity advocates to be fully equipped for battle.
Kerri and Cleta discuss the wide range of tools in the EIN toolkit – from basic to advanced – that provide citizen patriots with the research, training and collaboration necessary to their becoming well-informed and confident in their efforts to ensure that all elections are administered fairly, accurately and in accordance with the law.
What exactly is EIN? It is a platform for citizens to become educated and engaged in election integrity. EIN deploys its Citizens Guide to Building an Election Integrity Infrastructure, local and state coalition training and networks, Master Class training modules, and National Working Groups on election policy issues to knit together a fabric of effective and knowledgeable election integrity advocates.
Noting that election integrity is everyone's problem – and everyone's problem to fix – Cleta and Kerri reveal all the critical tools EIN has created to solve election integrity issues from local task forces on up. Don't miss this important Podcast that lays out the steps of how you can start and how to grow in the election integrity movement.

Visit www.Whoscounting.US for access to our myriad resources, and please listen/watch and share this episode of Who's Counting? With Cleta Mitchell and access her library of Podcasts to learn about election integrity from the nation's key experts.