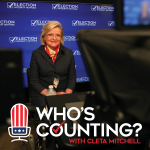 By the Numbers: An Auditor's View of Election Integrity
Auditor, CPA, MBA – and election integrity advocate. Shocked by statistical anomalies he saw in the 2020 election, Joseph Fried used his well-honed mathematical and analytical skills to investigate these concerns.
His book on 2020 election results, Debunked?, documents deviations from procedure and suspicious statistical inconsistencies in six swing states that he believes changed the outcome of the election. Mr. Fried explains to Cleta that his data shows that the certification of election results in key areas was – at the least – premature.
Fried carefully reviewed the numbers of vote by mail ballots that were arguably not verified in Fulton County, Georgia and Maricopa County, Arizona. In Wisconsin, despite a massive increase of "Covid" absentee ballots, the rejection rate resulting from signature abnormalities or other defects were at a historic low. These numbers, according to Fried's research, were greater than the margin of victory in the Presidential election. of 2020.
During this episode of Who's Counting?, Mr. Fried offers fascinating numerical proof of the many concerns about vote by mail ballots, ballot harvesting and the abuse of election law that left American voters with a nagging concern about the legitimacy of their elections.
We hope you listen/watch and share this episode of Who's Counting? With Cleta Mitchell and subscribe to receive Cleta's latest podcast interview each week.