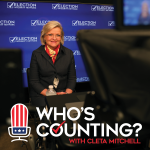 Meet Jerry Holland, the incoming Supervisor of Elections in Duval County, Florida, who assumes that office on July 1, 2023. But this isn't Jerry's first time at the bat of public service in Duval County. Having served on the Jacksonville City Council, including serving as the President of the City Council, and other local commissions important to the residents of Duval County, Jerry was Supervisor of Elections in Duval County from 2005, when he served out the term of his predecessor, and was then twice elected to the office. In 2015, Jerry was elected as the Duval County Property Appraiser, which oversees the property tax laws of the state of Florida and Duval County. Jerry was unopposed when he ran again for Supervisor of Elections this year.
In this Episode of Who's Counting, Cleta talks with Jerry about how election officials can restore the trust and faith of the citizens in the election process. They talk about a wide range of issues of concern to election integrity activists and leaders: the security of voting technology, ensuring that only legally eligible citizens vote, making sure that the election systems and procedures are fair to all voters, balancing access to the polls with protecting the integrity of the process, cleaning voter rolls, and more. Most importantly, according to Jerry, is that election officials and administrators adhere to a commitment to transparency and accountability. And Jerry notes that some of the mistrust that has arisen regarding the election system in 2020 arose from actions of election officials, such as covering the election office windows to keep out citizen observation of the election process.
Jerry was a strong leader for the integrity of Duval County's elections during his previous tenure as Supervisor of Elections, and has renewed his commitment to working with the election integrity volunteers in Florida today. A shining example of the right approach with the right principles, Jerry Holland will no doubt be a welcome member of the Florida SOE network – and a leader and example to his colleagues in other counties.
Share the podcast, subscribe to Who's Counting? with Cleta Mitchell, and visit our website: www.whoscounting.us, sign up to become part of the election integrity movement and help save America's elections, one county at a time.