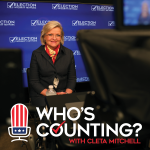 Dr. John Eastman is a constitutional conservative and legal scholar who currently serves as Senior Legal Fellow at The Claremont Institute. Dr. Eastman started his legal career as clerk to Justice Clarence Thomas, and as a practicing attorney, quickly learned that working on the legal side of conservative causes and enforcing constitutional law was often frowned upon by law firms and the judiciary.

Throughout this Podcast, John and Cleta share "war stories" of their experiences with ideological (leftwing) roadblocks while trying to uphold constitutional rights and authority. Both have had efforts to enforce election law or to bring election challenges to the court thwarted by partisan, activist judges and have also fearlessly fought the bias and cowardice of large law practices.

Dr. Eastman and Cleta both provide specific examples of cases and state actions that show election integrity cases are not welcome in courts, and judges who usurp the lawful authority of state legislators in regard to election procedures harm impacted voters and also tear the fabric of the entire election system.

In a conversation on court requirements to determine "standing" (the right to bring a lawsuit), John and Cleta note that one must be able to prove injury to achieve standing. Based on Dr. Eastman's battles with leftwing foes of election integrity, he has standing in the public arena to argue for adherence to constitutional law while remaining completely undeterred in his efforts to make the U.S. voting system transparent, accurate and trustworthy.

We hope you listen/watch and share this episode of Who's Counting? With Cleta Mitchell and subscribe to receive Cleta's latest podcast interview each week.