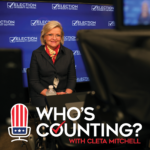 This interview is part of EIN's "After and Before" Who's Counting With Cleta Mitchell Podcast series outlining the positive difference an election integrity infrastructure has in states with active local and state election integrity task forces.
After a career spanning 20 years of service in the U.S. Army, West Point graduate Jim Womack entered the private sector as an IT professional as well as becoming a county commissioner and being active in local party politics. These experiences combined to give him the expertise to create a North Carolina fair election organization – the North Carolina Election Integrity Team, called "NCEIT".
Inspired by what he learned at EIN's first national election integrity leaders' summit in January of 2022, Jim returned to North Carolina, created NCEIT, collected a team of experts, and spearheaded a statewide election integrity network already making an impact on the election system in his state.
Cleta and Jim discuss the importance of applying proven business practices to "the business of election integrity." Jim's EI business model is organized into EI issues or "lanes" that are then delineated into tasks and assigned to specific task force members with relevant interest or expertise.
NCEIT has also prioritized these EI lanes, and made great strides in becoming deeply involved with voter rolls and list maintenance, voting machine accuracy, creating relationships with election boards and other pertinent issues. Jim and has team have uncovered some critical problems in NC statutes, state election board procedures, and in standard election practices that must be addressed by policymakers and legislators. The work that NCEIT is doing is also helping to inform task forces and election integrity advocates in other states.
Be encouraged! Be engaged!