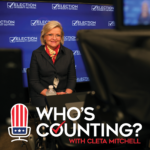 This interview is part of EIN's "After and Before" Series.
After 2020 and 2022, and Before 2024: Who's Counting? with Cleta Mitchell Podcasts discussing state-by-state experiences in 2022 from the Election Integrity Network's citizen leaders: The bad…but also the good – and the positive difference an election integrity infrastructure made and is making in state after state.
Whatever do purple pens and knitting patterns have to do with election integrity efforts? Cleta's guest Elizabeth Butler, leader of the Broward County, Florida, Election Integrity Task Force describes a few notable red flags she has discovered both as an election integrity activist in Virginia, and now in Florida.
Elizabeth has a background in engineering and management, which she believes has trained her to identify patterns and knit them together to reveal persistent problems – a key skill in her work as an election integrity leader. Elizabeth started her election integrity work in Virginia in 2015 as a volunteer poll observer, then formed the Richmond, VA election integrity task force in 2021 and became a key leader in Virginia's Fair Elections Coalition, before moving to Broward County, Florida in 2022.
Because of her unique perspective as an election integrity leader in two states, Elizabeth has become one of the most knowledgeable leaders in the country on election processes. Having been involved in election integrity operations in two states with two very different sets of laws and procedures, Elizabeth has learned – and taught others – key principles required to protect the integrity of the election systems, regardless of location.
With a particular knowledge about election processes, ballot harvesting and the problems of verifying identity of voters who vote by mail, Elizabeth has not just made a difference in her county in a short period of time, but has lent her expertise to the statewide Florida Fair Elections Coalition originally launched by Election Integrity Network. Elizabeth has also served as an instructor at several of EIN's statewide Election Integrity Summits.
Elizabeth describes noticing a stack of vote-by-mail ballots in Broward County marked with the same purple pen and indicating the same political choices – and blank boxes – which clearly raised questions of the authenticity of the ballots. Elizabeth and Cleta discuss the challenges of keeping such ballots from being included in the count, and some specific and strategic ways to identify and solve problems in the election system.
Elizabeth Butler is making a real difference in helping her fellow citizens develop expertise in election procedures, and the confidence to speak up and point out the issues that plague every election system – and to help restore integrity in the election process.
Elizabeth is a role model for citizen involvement in the election process.
Be encouraged! And be engaged!